Learn 30 chatting Sentences in Urdu and Hindi for Daily Use for Speaking practice in Urdu Translation. These Chatting sentences help you speak English easily with little knowledge of English grammar and vocabulary. All you need to know is, the correct spelling when you chat or how to say the sentences when you speak.
Let's dive into the lesson and learn chatting sentences in Urdu and Hindi translation.
Chatting Sentences in Urdu and Hindi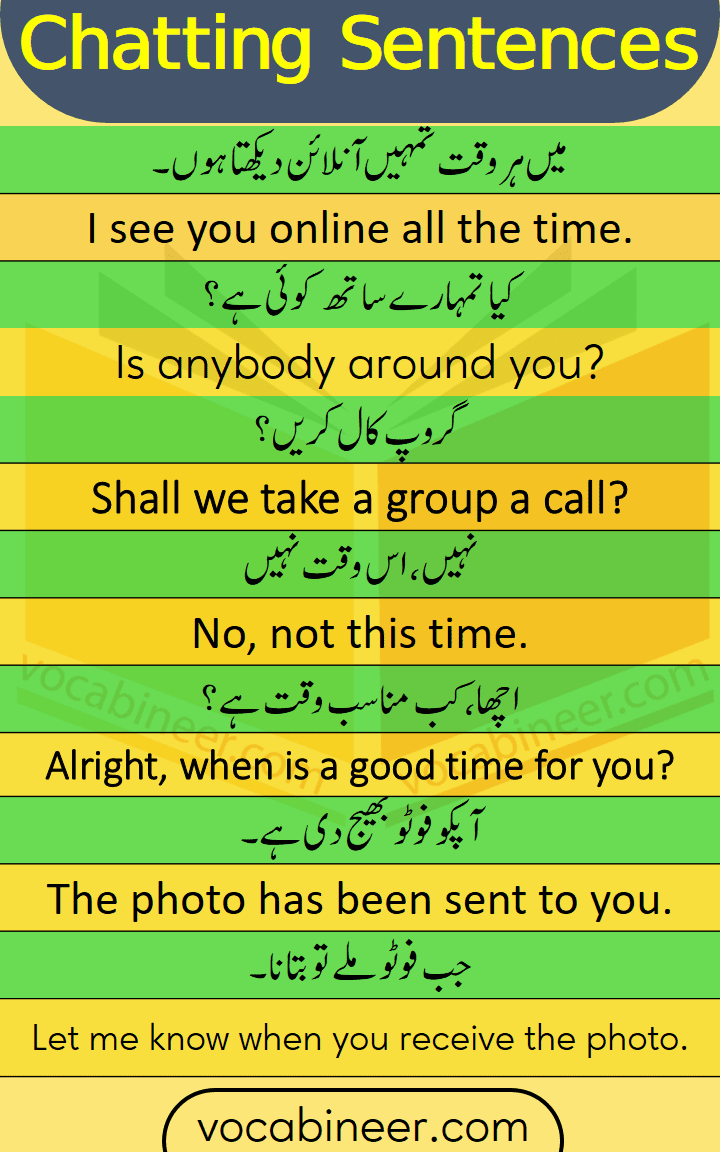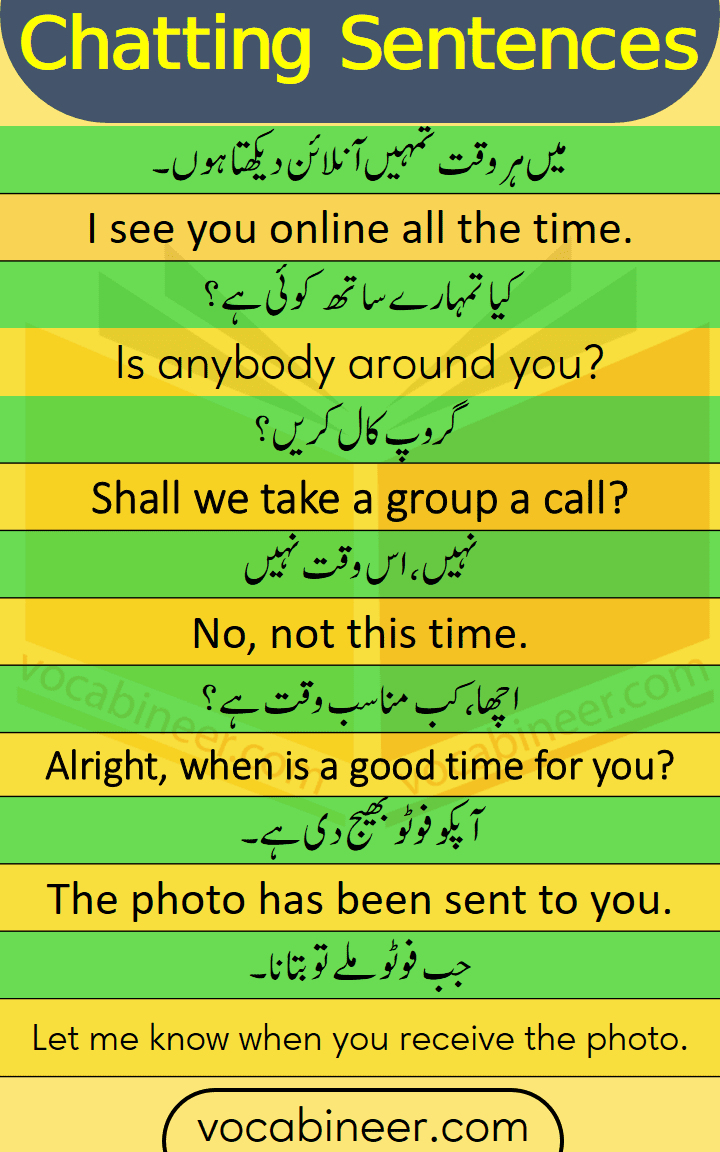 Tum kab free hojaogy?
When will you be free?
مجھے تمہاری پروفائل پکچر اچھی لگ رہی ہے۔
Mujhy tumhari picture achi lg rhi hy.
I like your profile picture.
تم آج کل آفلائن رہنے لگے ہو۔
Tum aaj kal offline rehny lgy ho.
You started being offline these days.
Tum ny dp kiun hta di?
Why did you remove your DP?
اپنی ڈی پی بدل دو، یہ اچھی نہیں۔
Apni DP bdal do, yeh achi nhi.
Change your DP, it's not a good one.
isy status par lgado.
Upload it on your status.
تم نے ایسا سٹیٹس کیوں لگایا؟
Tum ny aesa status kiun lgaya?
Why did you upload such status?
Abhi status htao.
Remove/delete your status right now.
Free ho kar call krna.
Call me when you get free.
آپ مجھے کسی بھی وقت کال کرسکتے ہیں۔
Aap mjhy kisi bhi waqt call kr skty hen.
You can call me anytime.
Kahan hotay ho aaj kal?
Where are you now a days?
Mein Asim hun.
It's me Asim.
تمہاری ٹائپنگ بہت سلو ہے۔
Tumhari typing bohat slow hy.
Your typing is so slow.
میں تھوڑی دیر تک رپلائی کرتا ہوں۔
Mein throi derr tak reply krta hun.
I'll reply/respond in a while.
I will reply shortly.
Mujhy aaj ki photo chahiye.
I need today's photo.
Yeh number kiska hy?
Whose number is this?
Isny kal mjhy message kia.
He/she texted me yesterday.
میں وقت پر جواب نہیں دے پایا۔
Mein waqt par jwab nhi dy paya.
I couldn't reply on time.
Meiny tang toh nhi kia?
Have I bothered you?
چلیں، میں پھر بات کرتا ہوں۔
Chalen, mein phir baat krta hun.
Alright, I'll talk later.
مجھ سے ٹھیک طرح سے بات کرو۔
Mujh sy thik trah sy baat kro.
Talk to me properly.
میں ہر وقت تمہیں آنلائن دیکھتا ہوں۔
Mein har waqt tumhen online dekhta hun.
I see you online all the time.
Kia tumhary sath koi hy?
Is anybody around you?
Group call kren?
Shall we take a group a call?
Nahi, iss waqt nahi
No, not this time.
Acha, kab munasab waqt hy?
Alright, when is a good time for you?
Apko photo bhej di hy.
The photo has been sent to you.
Jabb photo mily toh btana.
Let me know when you receive the photo.
Meny pehchana nhi aapko.
I didn't recognize you.
تم نے خود کبھی میسج نہیں کیا۔
Tum ny khud kabhi message nhi kia.
You never texted me yourself.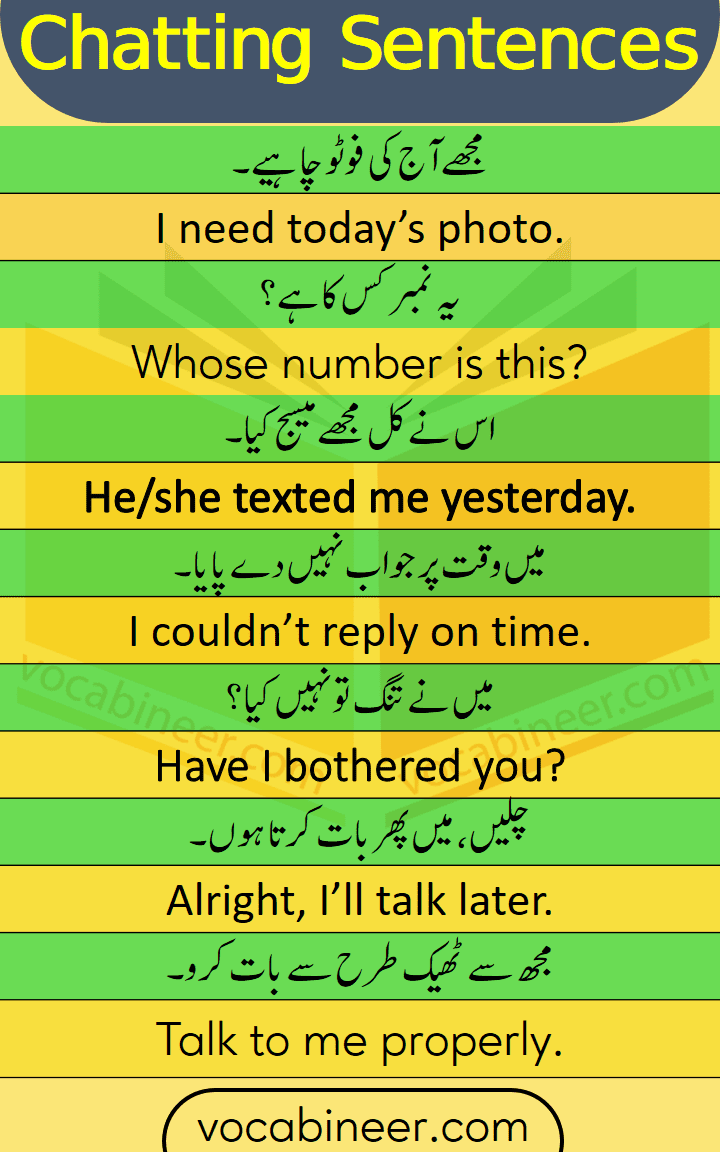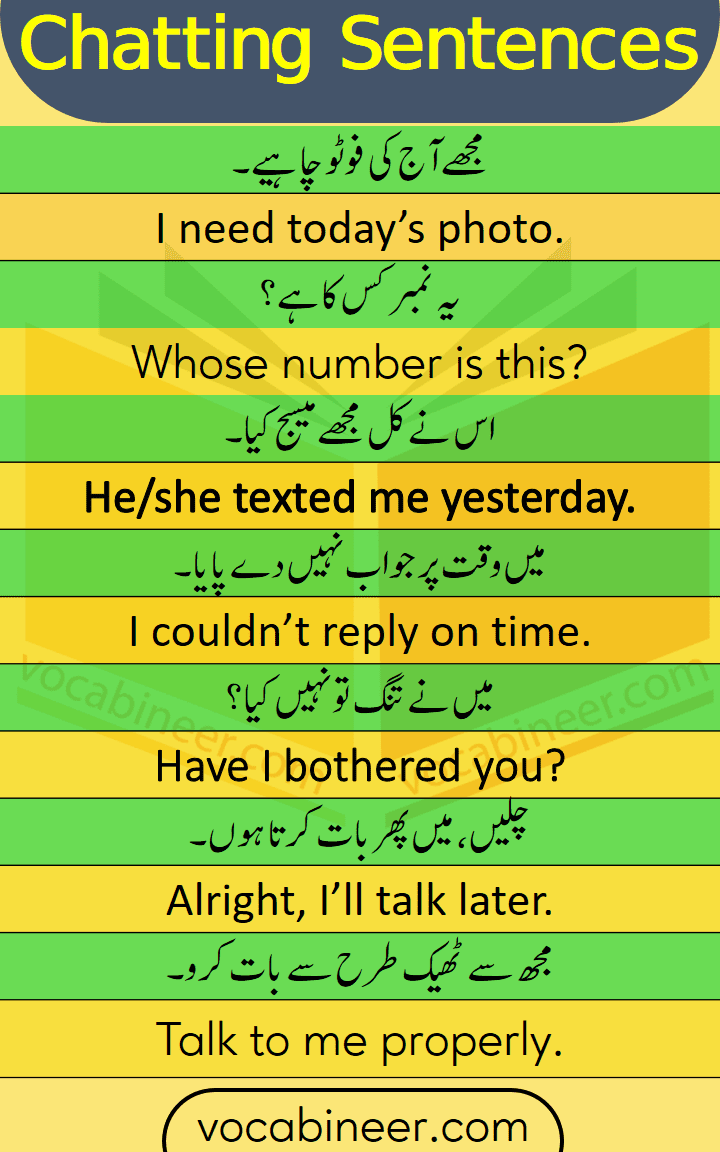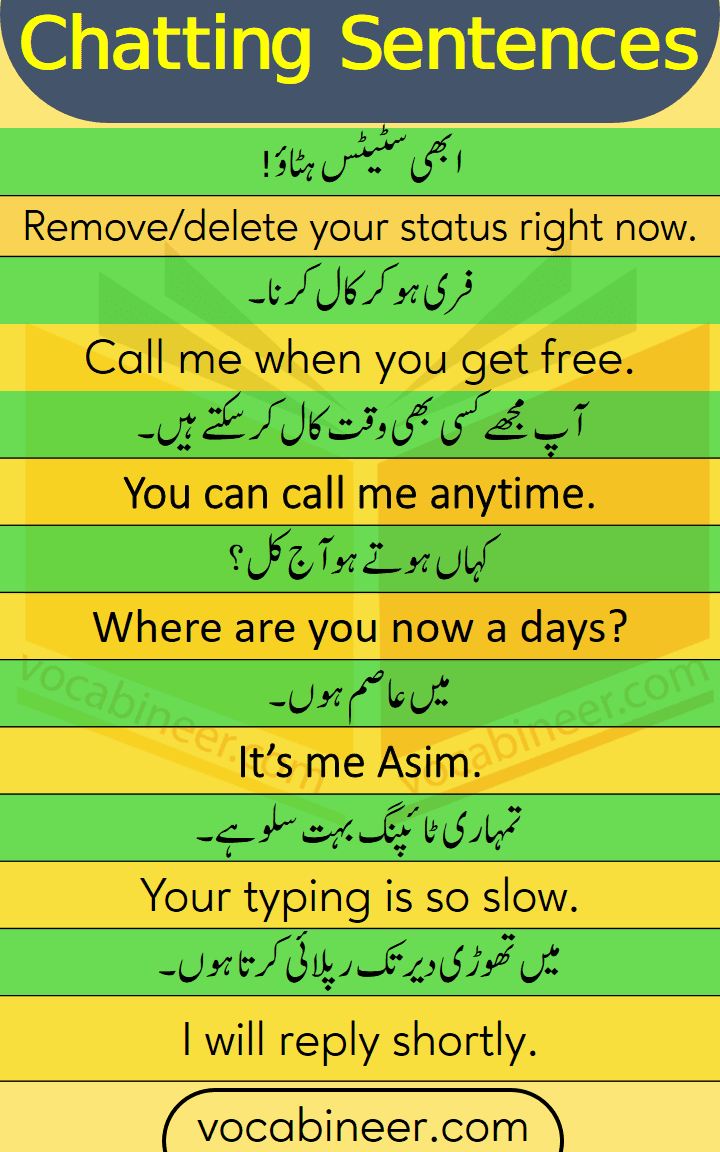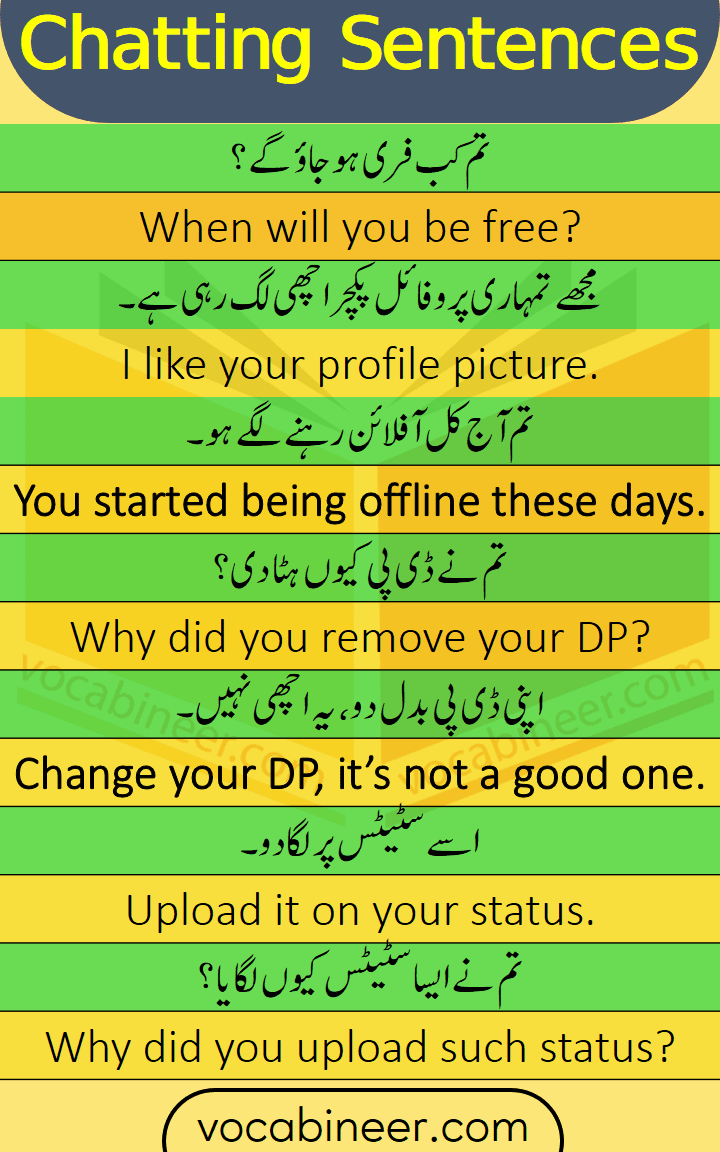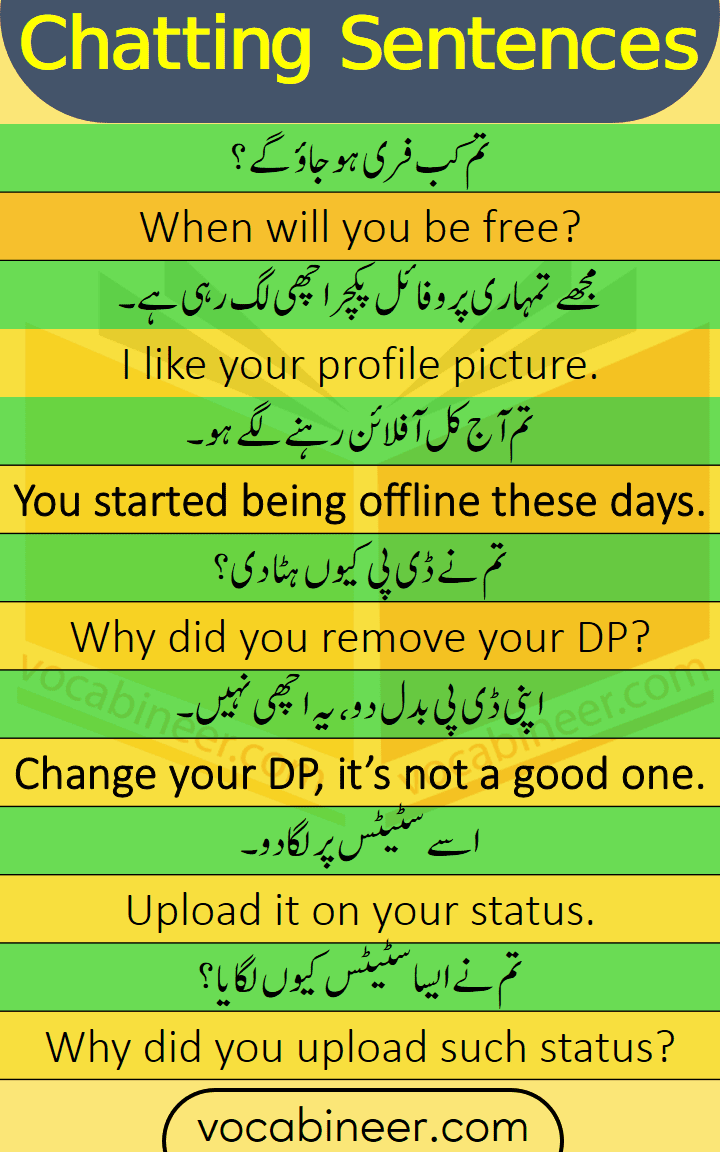 Download PDF
Click Here