In this lesson, we have brought 30 English sentences that you can use to speak English in the month of Ramadan. Muslims have a sacred month once a year and they fast in this month. Millions of Muslims are living in countries where only the English language is the language of communication, this lesson is particularly for them and also for those Muslims who want to speak English in this holy month. The good news is, people having little knowledge of the English language can now speak English without working so hard with these English sentences.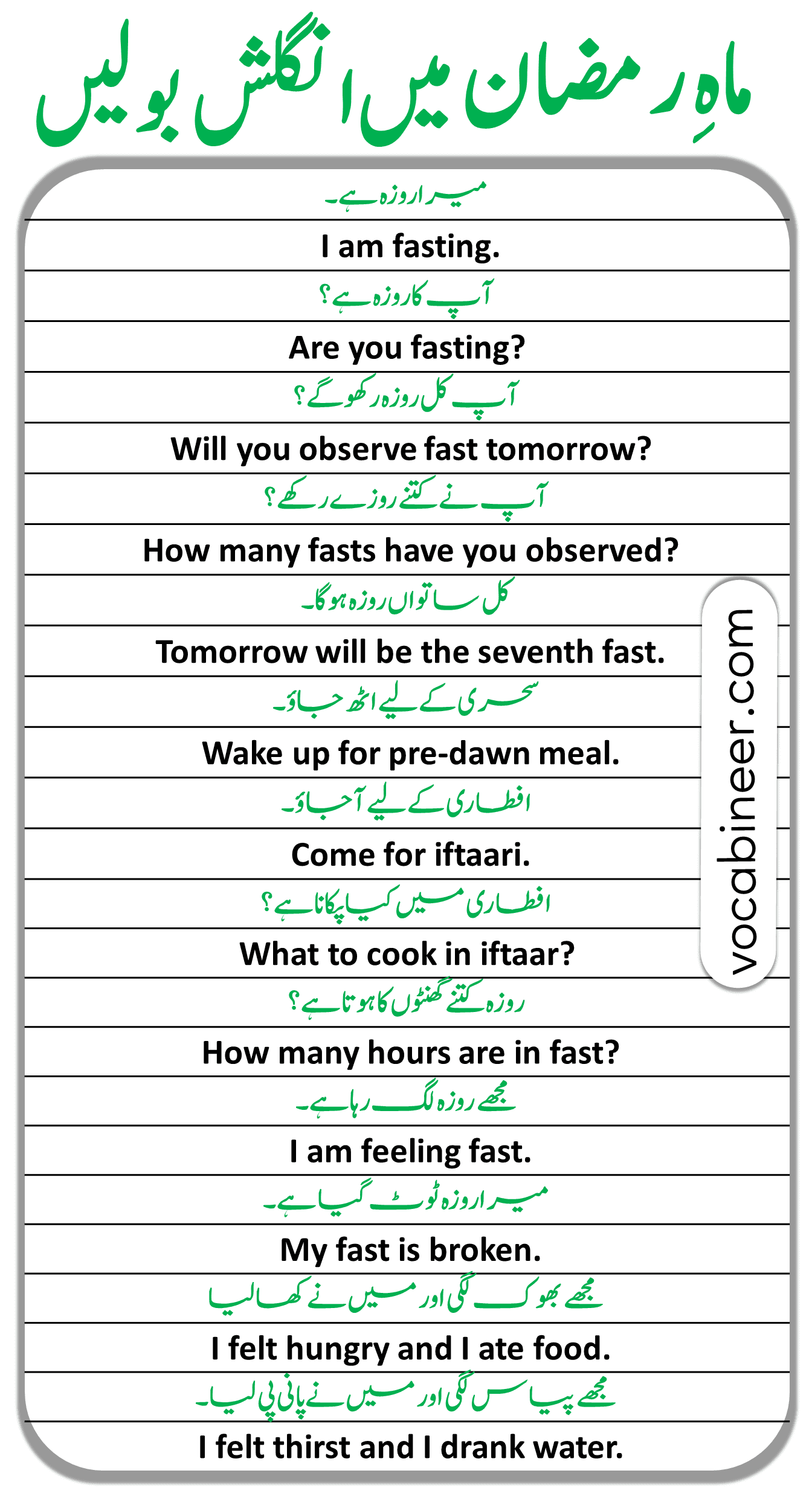 Speak English in Ramadan
 Mera roza hai.
 I am fasting.
Apka roza hy?
Are you fasting?
Aap kal roza rkho gy?
 Will you observe fast tomorrow?
 Ap ny kitny rozay rakhy?
 How many fasts have you observed?
 Kal satva roza hoga.
 Tomorrow will be the seventh fast.
 Sehri k liye uth jao.
 Wake up for pre-dawn meal.
 Aftari k liy aa jao.
 Come for iftaari.
 Sehri ka time nikl rha hai.
 The time of suhoor is ticking away.
 Sehri mai kia lo gay?
 What would you like in suhoor?
مجھے سحری میں پراٹھا کھانا ہے۔
 Mujy sehri mai pratha khana hai.
 I want to eat paratha in suhoor.
مجھے سحری میں بریڈ نہیں کھانی۔
 Mujy sehri mai bread nhi khani.
 I do not want to eat bread in suhoor.
Iftaari mein kia pkana hy?
What to cook in iftaar?
روزہ کتنے گھنٹوں کا ہوتا ہے؟
 Roza kitny ghanto ka hota hai?
 How many hours are in fast?
 Mujy roza lag rha hai.
 I am feeling fast.
 Mera roza toot gya hai.
 My fast is broken.
مجھے بھوک لگی اور میں نے کھا لیا
 Mujy bhook lgi or main y kha kia.
 I felt hungry and I ate food.
مجھے پیاس لگی اور میں نے پانی پی لیا۔
 Mujy pyas lgi or main y pani pee lia.
 I felt thirst and I drank water.
بھول جانے سے روزہ نہیں ٹوٹتا۔
 Bhool jany say roza nhi toot'ta.
 Forgetful eating does not break fast.
میں آج روزہ نہیں رکھوں گا۔
 Mai aaj roza nhi rakhu ga.
 I will not fast today.
روزہ رکھنا صحت کے لیے مفید ہے۔
 Roza rkhna sehat k liy mufeed hai.
 Fasting is useful for health.
روزے میں اِنجیکشن لگوا سکتا ہوں؟
Rozay mein injection lgwa skta hun?
Can I get injected when I am fasting?
Rozay mein zyada mat bolein.
Don't talk excessively when fasting.
Leemoon paani pakrana.
Pass me the lemonade.
فالسہ اِفطار میں ضرور کھاؤ۔
Faalsa iftar mein zrur khao.
Don't forget to eat falsa in iftaar.
روزہ رکھ کر زیادہ سونا نہیں چاہیے۔
Roza rakh kar zyada sona nhi chahiye.
One should not sleep excessively during fasting.
ماہِ رمضان میں مجھے شاپنگ نہیں کرنی۔
Maahe ramazan mein mjhy shopping nahi krni
I won't go shopping in Ramadan.
وہ سحری میں بہت کھاتا ہے۔
Wohh sehri mein bohat khata hy.
He eats a lot in Sehri.
Tasbih parho.
Read/recite/pray the rosary.
میں اعتکاف میں بیٹھا ہوں۔
 mein aetkaaf mein betha hun.
I am sitting in seclusion.
Mujhy roza lag rha hy.
I am going hard with the fast.